Kinnick Stadium Information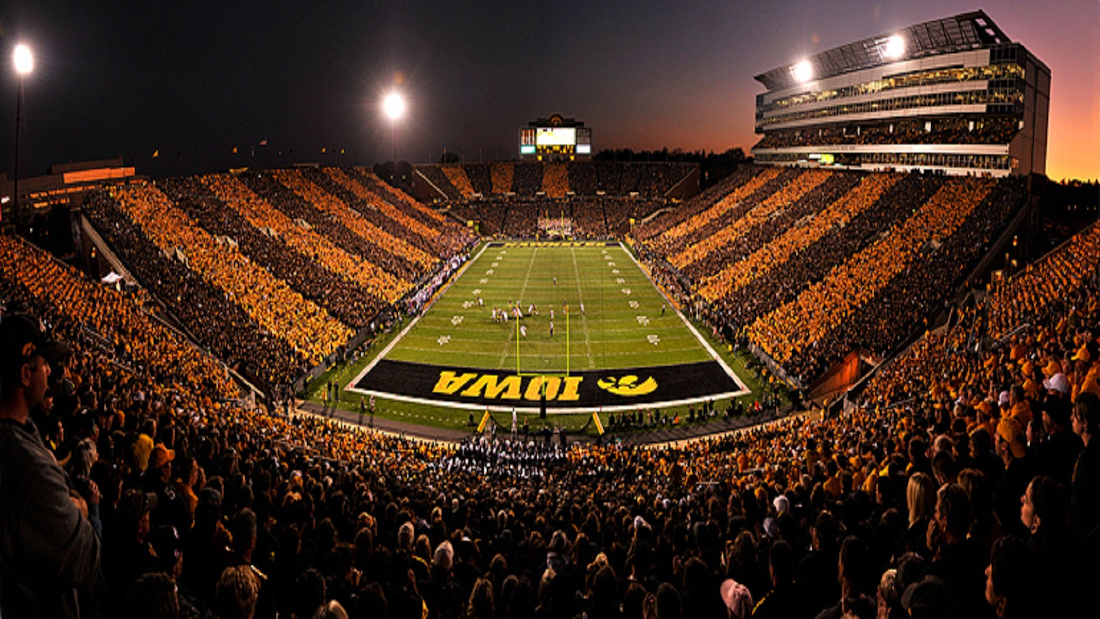 Kinnick Stadium, once known as Iowa Stadium, was originally opened in 1929 to replace Iowa Field. The venue kept its name until 1972 when longtime lobbying by Gus Schrader of the Cedar Rapids Gazette called for the name to be changed to honor Nile Kinnick, a 1939 Heisman Trophy winner who was the only Heisman winner from the university as well as a serviceman who died during World War II.
The stadium stands out for being the 7th largest stadium in the Big Ten Conference and one of the 20 largest universities owned stadiums in the nation. It also has a playing surface that uses synthetic FieldTurf, which was installed in the same year that the facility was renamed to honor Nile Kinnick. It's also interesting to note that if the stadium is filled to its 69,250 person capacity, then it would be the sixth-largest city in Iowa, after Des Moines, Cedar Rapids, Davenport, Sioux City, and Iowa City. Before the 2015 season, the stadium lacked permanent lights, using contracted Musco Lightings portable light trucks for night games in previous years.
The stadium is also known for having pink visitors' locker rooms, a tradition started by emeritus Iowa coach Hayden Fry. He believed that the color would put opponents in a "passive mood" as well as his belief that the color was viewed as a "sissy color", which would put opponents off their A-Game. This tradition continues even after the latest rounds of renovations and despite controversy during the 2005 season when a law professor protested the coloration on grounds that it may be demeaning to women and homosexuals.
More recently, the stadium has featured a 20-foot-tall bronze statue of Nile Kinnick depicting the athlete dressed as a scholar rather than in his football uniform. The statue is placed near the team entrance to the stadium. This started a tradition where Iowa players would rub the helmet placed at the foot of the statue as a sign of respect for Kinnick, the only player to ever win the Heisman Trophy. Also, all on-field entrances at the stadium have a picture of Nile Kinnick placed above the tunnel right before exiting the tunnel to the field.
Further information on Kinnick Stadium:
Ticket Policies:
Read about the ticket policies and authenticity guarantees for tickets purchased via this website.
Kinnick Stadium Seating Chart:
View the Kinnick Stadium seating chart and seating options.
Kinnick Stadium Parking:
Find out more about parking and driving arrangements at the Kinnick Stadium.